Spouses Rush to Finalize Divorce, Modifications Before New Year Brings Alimony Tax Changes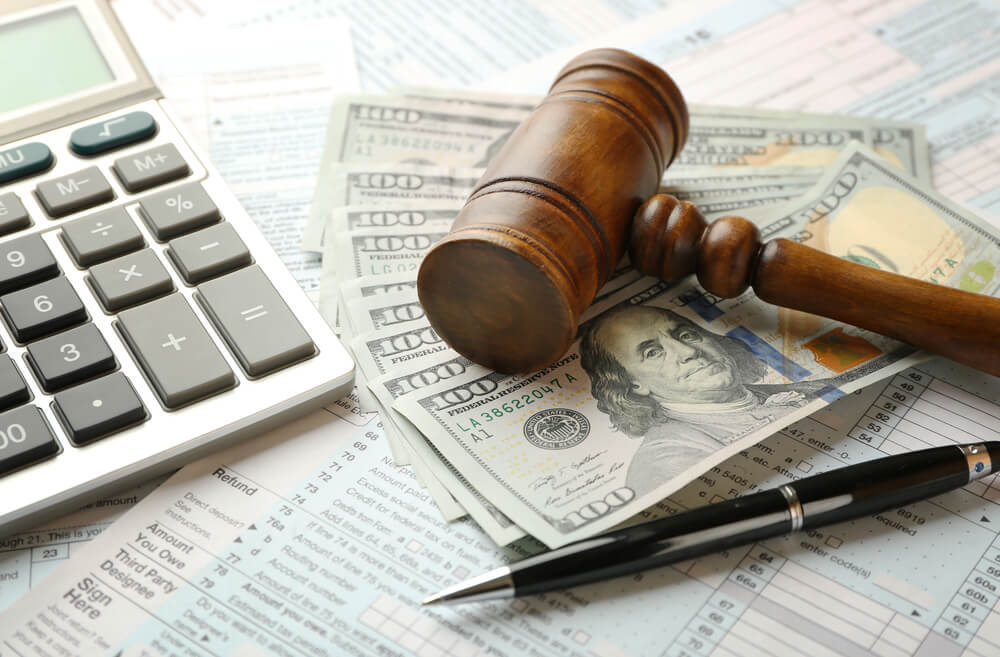 Sweeping changes to the U.S. Tax Code set to take effect on the first of the year are motivating many individuals and spouses to get their divorce cases wrapped up before January 1st. That's because the new tax update significantly overhaul the rules governing alimony taxes.
According to recent surveys, family law attorneys across the U.S. are reporting a significant increase in workloads this holiday season, particularly in matters concerning the finalization of divorce settlements and post-divorce modifications of alimony. Family law courts are also expanding their hours during the holiday season to accommodate the increase in couples scrambling to finalize their cases and benefit under tax laws soon to change.
That's all despite the fact that many couples usually wait to initiate or finalize a pending divorce until after the holiday season and New Year.
'Tis the Season: How Alimony Taxes are Changing
The rush to finalize divorce and post-divorce modifications stems from changes soon to be implemented under the Tax Cuts and Jobs Act (TCJA). Passed in 2017, the TCJA has several provisions which take effect in 2019 – chief among those being changes to the taxation of alimony. Below, we provide a breakdown of the old tax and the new changes:
The old tax law – Under current tax rules, individuals who pay alimony are able to claim deductions for those payments on their federal income tax returns. The party who receives those alimony payments must claim them as income on their own tax returns.
The new tax law – Under the new law, which takes effect on January 1, 2019, parties who pay alimony will no longer be able to claim alimony payments as deductions. The party who receives payments will no longer have to claim alimony they receive as taxable income.
In general, changes taking under the TCJA shift the tax burden from the recipient to the person writing the check. This means paying parties lose out on tax deductions, which can be significant for those with high net worth and may potentially allow the federal government to collect more taxes since payors are often higher-income earners. However, it also means recipient parties, usually, the lower-earning former spouse will no longer have to claim alimony payments they receive as taxable income, allowing many to potentially qualify for various income-based benefits.
What You Need to Know About New Tax & Alimony Rules
The new tax rules for alimony apply ONLY to a divorce finalized on January 1, 2019, or after. If you finalize a divorce on January 1, 2019, or beyond, any alimony awarded in the case will be subject to the new tax treatment (i.e. no deduction for the paying party, and tax-free income for the recipient ex-spouse).
If you have a pre-2019 divorce, the old alimony tax rules will still apply. If you have finalized a divorce before the first day of 2019 (meaning December 31, 2018, or any time before then) any alimony awarded in your case will be taxed under the old law. This is a major reason why couples are rushing to finalize their decrees.
If you seek a post-divorce alimony modification after the New Year, the new tax law will apply. Even if your divorce was finalized before 2019 (be it 2018 or 2008) and alimony currently paid as part of that divorce is taxed under the old rules, any modifications made after the New Year will change that. This means if you finalize a modification on January 1, 2019, or after, any new alimony payment will be non-deductible for the paying spouse, and tax-free for the recipient. In order to preserve the current tax treatment, post-divorce modifications of alimony will need to be made before 2019.
So What Does it All Mean?
Although there's a lot of publicity about the "rush to divorce" given the new alimony tax changes, what it means for any individual or any particular case will always be different. Every case and divorce is unique, and the implications of alimony taxes under either the new or old rules should be carefully evaluated before rushing into any finalization simply because you think you'll benefit. That strategy could actually cause you more harm in the long run, especially if you fail to properly address other important aspects of your case, such as property division or child custody.
Here's where the issue stands in terms of how tax changes may impact divorce cases, as well as some general information about the role of taxes in divorce and family law cases overall.
Finalize now or later? – If you're actually in position to finalize a pending divorce or post-divorce alimony modification, you should carefully evaluate the pros and cons of finalizing now (before the end of the year) or later (after the New Year when tax changes take effect). An experienced attorney can help you evaluate those pros in cons in accordance to your particular situation.
For payors – Some argue eliminating alimony tax deductions, which make alimony more palatable for some, hurts higher-earning spouses. However, that depends on their unique financial situation and factors like the amount and duration of alimony. While paying parties may want to speed up the process to benefit from deductions, it may not be a wise decision for some, especially if rushing a case to completion before the deadline simply to preserve the deduction could potentially create bigger hassles or less-than-desired outcomes overall.
For recipients – Arguments about what the tax changes mean for recipients are also divided. For some, the lack of deductions may mean recipient spouses have less leverage when negotiating alimony settlements (i.e. asking for higher payments to account for the taxes they had to pay under the old law). For others, the tax changes are seen as a benefit for recipients, not only because those payments won't be taxed as income, but also because the new tax law may increase their ability to qualify for certain income-based benefits, including federal or state assistance or health insurance subsidies.
Exploring your options – As mentioned, you should always carefully evaluate and explore your options before making any rash decisions. With the assistance of proven attorneys like those at Hendershot, Cannon & Hisey, P.C., you may find other viable alternatives to resolving alimony that don't solely focus on taxation issues, but which still take them into consideration. This may include settlements involving awards for more assets in lieu of some or all alimony, a spouse taking on more marital debt in compensation for altered awards, lump-sum buyouts, and more.
Other Issues to Consider
Prenuptial or post-nuptial agreements – Spouses with existing prenuptial agreements, or couples who wish to create a pre- or post-nuptial agreement, can benefit from re-evaluating those agreements and considering the new tax law. That's because the IRS has provided little guidance on how tax-related terms included in marital agreements will be handled. For example, if a prenup includes language stating payments are deductible for one spouse, that language may not be viable under the new law.
Modifications – Texas allows individuals to petition for modifications of certain agreements reached in their divorce. While the new tax law may be prompting more people to rush into seeking modifications of alimony, it's not an easy or guaranteed process. In order to have the modification approved by the court, both parties must either mutually agree to the change, or the petitioning party must prove a valid justification and significant change in circumstances warranting the change, such as proving a major injury, or a job loss with a significant amount of time spent on "good faith" efforts in finding another of comparable pay.
Business Valuation – Sweeping reform of the U.S. Tax Code may also impact other tax-driven divorce issues, including the valuation of a business, which can be an important component in divorce and property division agreements. By increasing cash flow of certain entities in a way that raises value, the new tax law could change a business's value dramatically and potentially result in larger property division or alimony awards. Business valuation is a complex issue that often requires the help of skilled attorneys and financial experts. If you have a private business and are considering divorce, determining your options and how the tax law may impact your situation and case is worth exploring.
Hendershot, Cannon & Hisey, P.C.: Texas Divorce & Family Law Representation Year-Round
While the tax changes are making for some hectic times in family law courts this holiday season, issues involving the financial elements of divorce – including alimony, property division, taxes, and more – are a major component of divorce cases at any time of year. If you have questions about your current situation and the impact the new tax changes may have on your case, or if you would like to discuss getting started on your own divorce or family law matter with our award-winning legal team, our team at Hendershot, Cannon & Hisey, P.C. is here to help.
Contact us online or call (713) 909-7323 to speak with a lawyer. Hendershot, Cannon & Hisey, P.C. serves clients throughout Houston and the state of Texas.
Posted By
Hendershot, Cannon & Hisey, P.C.
Categories: