Houston Construction Lien Lawyers
Materialmen's and Mechanic's Liens in Texas
Property owners rely on various parties for materials and labor to complete construction projects. When owners fail to pay, contractors and subcontractors may have legal recourse to recover payment for their work and any supplies they purchased that were incorporated into the property. Often, this means filing a construction lien claim.
At Hendershot Cowart P.C., our construction law team represents contractors, subcontractors, and owners in complex construction arbitration and litigation, including matters involving liens on private residential and commercial property.
On This Page
---
If you have questions about filing a mechanic's lien in Texas, or need to defend against one, our award-winning Texas lawyers are here to help. Call or contact us online to speak with an attorney.
---
What Is a Construction Lien?
Construction liens – also referred to as mechanic's liens or material men's liens – are claims against an improved piece of private property. These claims function as a legal tool used by contractors and subcontractors who want to ensure they are paid for their work and expenses on private construction projects. For public works projects, a bond claim is used to seek collection of accounts due.
The rights and protections afforded to mechanics, material men, and artisans (i.e. designers) are outlined under Article XVI, Section 37 of the Texas Constitution, which grants these parties a claim or interest to a project for the value of materials supplied or labor performed (i.e. the value of delinquent payment). Chapter 53 of the Texas Property Code further governs mechanic's liens rights, and establishes the process for bringing and enforcing construction lien claims.
Mechanic's liens and the procedural rules that govern them can be tremendously convoluted, complex, and time-sensitive, which is why anyone in the construction industry who provides labor or materials, or who receives labor or materials, should work with legal representation to avoid losing their lien rights and ensure they take the appropriate steps to perfecting their claims.
Our team at Hendershot Cowart P.C. can assist clients in all stages of construction – from reviewing and negotiating the terms of a contract to navigating the process of sending notice and filing a lien affidavit.
The Mechanic's Lien Process: Protecting Your Lien Rights in Texas
Protecting your lien rights begins at the time you execute your contract. At Hendershot Cowart P.C., we counsel clients on best practices that not only ensure they enter into clear and enforceable agreements, but also that they are prepared to act should disputes, delays, or problems arise.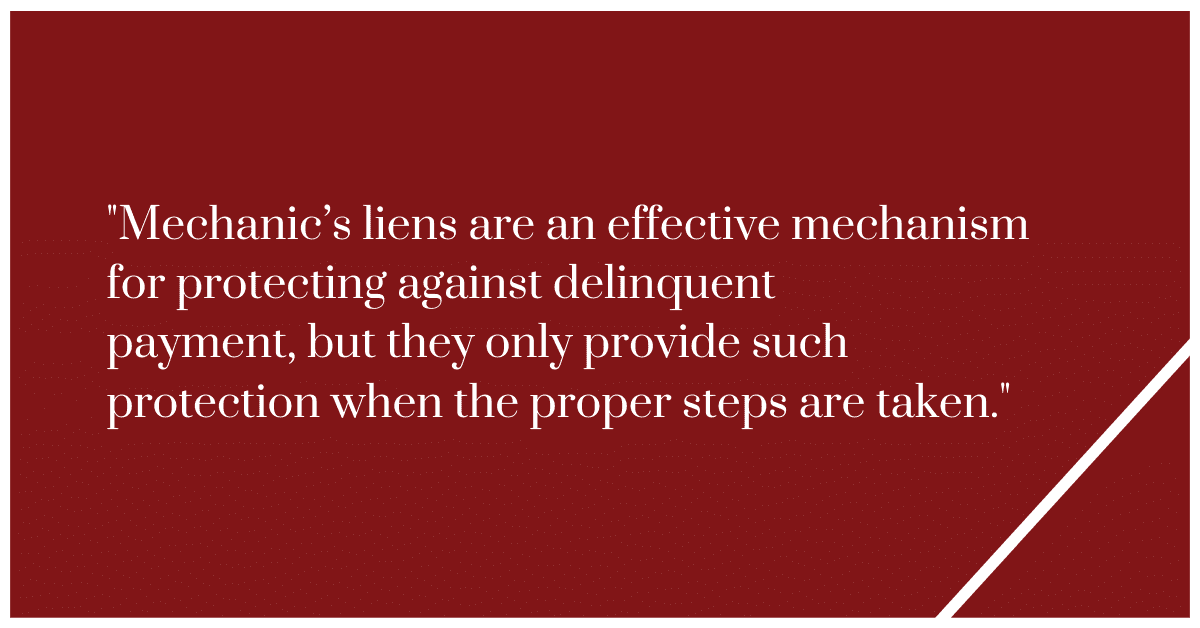 Though every case is unique, there are some critical steps contractors and subcontractors should take in order to protect their lien rights and perfect their claims. These include:
1.Requesting Information From Owners
Upon executing a contract, or shortly after, contractors and subcontractors should issue a written request to the property owner for a description of the property to be improved, a copy of all contracts for the project, a copy of any surety bond, and information about any prior liens or security interests. Per Property Code, owners have 10 days from receipt of the request to respond.
This information will be needed by any contractor when filing a lien claim, and collecting this information early on can ensure you'll be prepared to file your claim and meet applicable deadlines.
2. Sending Notices
In Texas, original contractors are not required to provide pre-lien notice. For all other contractors and subcontractors, a notice must be sent to the owner and the original contractor. Determining what type of notice you must send and when to send it will vary depending on the type of construction project, and your relationship to the project.
Though there are variances in the notices used by parties in a construction project, all notices must be sent on time and in the proper form in order to protect your lien rights. Mechanic's liens are an effective mechanism for protecting against delinquent payment, but they only provide such protection when the proper steps are taken.
Our attorneys can assist you in determining the most appropriate lien for your circumstances, and the applicable deadlines.
Notice of Unpaid Account
Subcontractors or suppliers who contract directly with original contractors (first tier), must send a written Notice to Owner of Unpaid Account no later than 15th day of the third calendar month (or second month for residential construction) after each month during which labor or materials were provided but not paid for. Subcontractors and suppliers who do not contract with original contractors must send a written Notice to Original Contractor of Unpaid Account no later than the 15th day of the second month after each month during which labor or materials were provided but not paid for (in addition to the owner). These notices must be sent for each month of non-payment, and the Notice to Owner of Unpaid Account must contain "fund trapping" language to ensure owners retain funds from original contractors in excess of the statutory 10% retainage, which often proves insufficient to cover claims when a contractor has defaulted.
Notice for Contractual Retainage
Contractors providing labor or materials under an agreement that provides for contractual retainage must provide a separate notice of their right to retainage to all parties above them in the contracting chain (owner included). A Contractual Retainage notice must be sent no later than 30 days after the date an agreement is completed or terminated, or 30 days after the original contract is terminated or abandoned.
Notice for Specially Fabricated Items
Contractors who provide specially fabricated materials (those which cannot be easily reused in other projects), can send a Notice for Specially Fabricated Items to the owner and original contractor to protect their right to a lien on their materials. This notice must be sent no later than the 15th day of the second month after receipt and acceptance of the order.
3. Filing a Lien Affidavit
For both residential and commercial construction, all claimants must file an Affidavit of Mechanic's Lien, the actual document which claims a lien on the owner's property, in order to collect from the owner.
The lien affidavit must contain specific information, including a sworn statement and a general statement regarding the work performed and materials furnished, as set forth by Chapter 53 of the Texas Property Code. It must also be recorded with the County Clerk.
A Lien Affidavit Must Be Filed:
No later than the 15th day of the fourth month following completion or termination of a contract for non-residential projects; or
No later than the 15th day of the third month following the last month materials or labor was provided for residential projects.
A lien affidavit for specially fabricated materials must be record no later than the 15th day of the fourth month following (1) the last month materials were provided, (2) the last month materials would have normally been provided, or (3) the last month of any material breach of the contract.
4. Other Considerations
Homestead and Residential Construction Liens: There are special considerations for contractors who assert liens against homestead properties. This includes meeting certain requirements when executing a written contract, and when filing a lien affidavit.
Payment and Enforcement: While many liens are resolved without action beyond a lien affidavit, some cases may require enforcement. A suit to foreclose upon a mechanic's lien may be brought within four years of the actual claim.
Discuss Your Rights With An Experienced Construction Lien Attorney
Texas laws regarding construction liens can be convoluted and highly complex. Because there are many nuances to lien rights and perfecting a claim, working with experienced legal representation becomes crucial to protecting your ability to recover payment.
At Hendershot Cowart P.C., our Texas lawyers are available to speak with contractors, subcontractors, and others who have questions about their options for asserting a mechanic's lien anywhere in Texas.
---
Our firm also assists clients with matters involving construction contract performance and COVID-19. To speak personally with an attorney, contact us.
Why Choose Our Team?
Unwavering Commitment to the Success of our Clients
We Shoulder the Legal Burden.™

And let you get back to business.

We Want to Be Your Law Firm for Life.

We take a vested interest in our clients' success – from start to finish.

We Believe in Prompt, Personal Attention.

As a boutique law firm, we unite real experience with personal attention.

We Serve Clients Throughout Texas and the Nation.

We handle matters from the Red River to the Rio Grande and beyond.

In Business Since 1987.

Let us put the full force of our 100+ years of combined experience to work for you.
"I cannot say enough good things about my Lawyer, Mr. David Augustus. His calm, laser-like knowledge of business law allowed me to prevail and teach a few others during the short negotiations. Having the full backing of his law firm also helped greatly."

- L.A.

"Excellent experience working with Ray to settle our partnership dissolution. He was consistently available and steadfast in his guidance. Highly recommend this firm."

- S.H.

"I retained Hendershot Cowart last year. Though an obvious small case for the firm, it was traumatic and very personal for me. Ashley Arnett guided me through the process, never once making me feel that my case wasn't any less important as any other."

- S.L.
We Are On Your Side
Schedule Your Initial Consultation